Graham's Cottage Retreat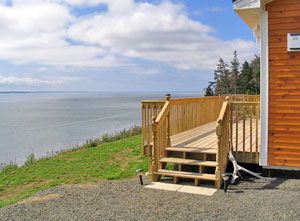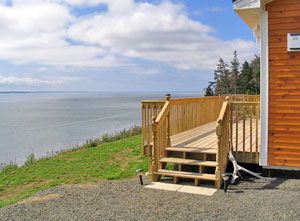 Graham's Pioneer Retreat, on the world-renowned Bay of Fundy, is a unique Nova Scotia vacation refuge. Four cozy cottages, a private beach and a truly spectacular view of St. Mary's Bay await you in the heart of one of the most prolific whale watching and birding destinations in North America. Graham's Pioneer Retreat is a magnificent fifty-acre property on Digby Neck, Nova Scotia. There are four cottages, built on a hillside, overlooking St. Mary's Bay.
One of the most popular whale watching destinations in North America; an unobstructed, unparalleled view of spectacular Nova Scotia coastline; a private beach surrounded by lush green forest; a pristine, rugged shoreline that begs to be explored and photographed, all await you in the ultimate private, secluded cottage rentals. There's a private pebble beach (great for beachcombing), beach bonfire area, and access to miles of wooded hiking trails along the rugged St. Mary's Bay shoreline. Join us for a wonderful evening at a beach party. Watch the night sky for falling stars. See the Milky Way!
Location
8020 Hwy 217, RR#4
Digby , Nova Scotia
B0V 1A0
Contact
Tel: 1-888-839-2590
Tel: 1-902-834-2590

Email: tranquility@digbyneck.com

---
VIEW WEBSITE
BOOK NOW